Explore our in-house powder coating service based on Sydney's Northern Beaches, servicing clients across Australia. 
Get a Quote
Fast turnaround on quotes and jobs, guaranteed.
Professional Powder Coating Service
Is Our Powder Coating Service Right for you?
With a crack team of powder coating specialists and a modern facility, our team can process jobs of any type, size and difficulty.
Our powder coating facility totals almost 1000 square metres, with a specially designed and contained spraying booth and oven that can run all day long.
From single bespoke items all the way up to large quantity orders, we can do it all.
Our Experienced Team Pride Themselves On:
Advantages of Powder Coating
Powder Coating is highly resistant to wear and tear no matter what it's used for. The coating is resistant to chipping, fading, scratching and wearing.
The thermal bonding process ensures the coat will be resistant to many weather and environmental factors.
The quick application process means you can get through a high number of parts and surfaces, while also reducing labor costs.
Powder doesn't contain any harsh chemicals designed to make it stick. It adheres to the metal through the electrical charge on the surface, so no solvents are used. 
Ask Us About Our Powder Coating Service
Powder coating is a manufacturing process we use with nearly all products we produce at Black Lab. This more advanced painting approach improves durability, provides a higher quality finish and is environmentally friendly.
Read More »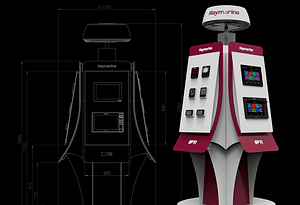 Interactive Product Destination A unique, custom built interactive product destination for a leader in Marine Technology. Black Lab Design were tasked with designing and developing
Read More »
See Our Past Projects and Products What do we make? Have a look through some of these projects and you'll see there's no limit to
Read More »